Swifter bank switching plan confirmed by George Osborne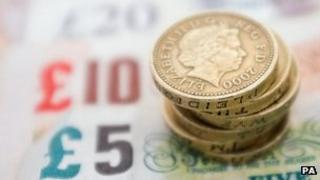 Bank customers will be able to switch their current account provider within seven working days, Chancellor George Osborne has confirmed.
The plan comes shortly after a regulator suggested there was little choice over current accounts.
Mr Osborne said that a service, available from September, would see payments made to a customer's new bank within seven working days at no cost.
He also wants to open up the payments system to speed up transactions.
Dominant
Lloyds, RBS, Barclays and HSBC now hold 75% of the current account market, which is valued at £9bn.
Mr Osborne, in a speech about the future of banks, said that he wanted to see consumers given the "most powerful weapon of all - choice".
A number of changes are already coming in to increase choice, such as the sale of Lloyds and RBS branches - as mandated by European competition authorities.
Now Mr Osborne has confirmed that legislation will ensure that a seven-day switching service is in place. This would allow "upstart" banks to get a foothold in the High Street, he said.
It would see direct debits and standing orders all moved over to the new provider at no cost to the customer through an automated system.
Customers are already able to shift, but few actually do so. Regulators have been trying to find ways to nudge customers into doing so, including breaking down a general belief among consumers that it is a hassle.
The Office of Fair Trading has been reviewing the way the UK's banks run current accounts, because of concerns over competition and a lack of focus on customers' needs.
In a recent report, it said there was a "lack of dynamism" from the banks alongside customer inertia.
Clearing system
The OFT suggested that if customers still failed to switch following all these changes, there should be a review into bank account number portability - when customers can keep their account number even if they move to a new bank, similar to switching mobile phone providers.
The chancellor also signalled plans to speed up the process of clearing cheques and other transactions.
He said that the current system, that sees a cheque clear in six days, should be opened up, rather than being tied up between the big banks.
Proposals are being worked out by the government, he said.
Richard Lloyd, executive director of consumer group Which?, welcomed the plans.
"Taken together the reforms announced today could be game changing and good news for consumers used to despairing at shoddy service, unfair fees and complicated switching," he said.
"However, in the past the banking industry has lobbied hard to water down reforms so we look to the government to see this through and make 2013 the year that banks start working for customers, not bankers."