Japan Airlines raises full-year profit forecast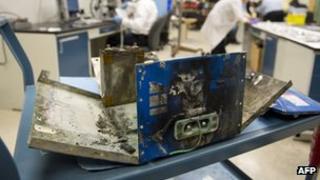 Japan Airlines has raised its profit forecast despite a decline in earnings for the first three quarters and the grounding of its Dreamliner fleet.
It has forecast a net profit of 163bn yen ($1.8bn; £1.1bn) for the year to 31 March 2013, up from 140bn yen.
It said travel demand to Europe, North America and South East Asia would help offset any impact of the 787 grounding.
Last week, rival All Nippon Airways warned that it would take a 1.4bn yen hit from the Dreamliner grounding.
Last month, safety regulators grounded the entire fleet of Boeing 787 Dreamliners after a battery on a plane operated by Japan Airlines caught fire, while a battery malfunction forced an emergency landing of a flight operated by All Nippon Airways.
Many flights have been cancelled as a result, and as the planes remain grounded amid an ongoing investigation, there have been fears over the impact on airlines' profits.
"While there are concerns of the impact of the suspended use of the Boeing 787 aircraft since January 2013, business has been robust," Japan Airlines said.
"Various measures including new products and services, which were steadily promoted, are also expected to uplift revenue."
It added that along with a pick-up in demand for international and domestic travel, cost-cutting measures were likely to help boost profit.
The carrier reported a 5.6% drop in earnings for the April to December period to 140.6bn yen.