Fed keeps US interest rates on hold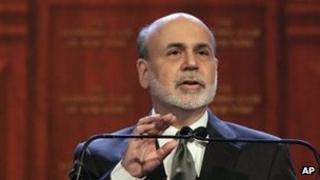 The US Federal Reserve has kept interest rates unchanged.
Interest rates in the US have been close to zero for several years, and the Fed again kept them at below 0.25%.
It came after the Commerce Department reported that US gross domestic product fell at a 0.1% annual rate in the last three months of 2012, after growing at a 3.1% rate in the third quarter.
This was the first contraction in the economy since the recession ended more than three years ago.
Inflation guideline
As part of the announcement the Fed said it would leave in place its monthly $85bn bond-buying stimulus plan, saying economic growth had stalled.
In a statement it said "economic activity paused in recent months, in large part because of weather-related disruptions and other transitory factors."
But, despite the slowdown, the statement also said that job hiring continued to expand at a modest rate, consumer spending and business investment had increased ,and the housing sector showed signs of improvement.
The Fed also confirmed that it plans to keep interest rates at close to zero at least until the US unemployment rate falls below 6.5%.
The latest figure, released earlier in January, shows that the rate currently stands at 7.8%.
The Fed previously had a date-driven target, rather than a data-driven one.
As well as the unemployment threshold, it also confirmed it expected to keep rates at the current exceptionally low range as long as:
inflation between one and two years ahead is projected to be no more than a half percentage point above the committee's 2% longer-run goal
longer term inflation expectations continue to be well anchored
The Fed had previously said it expected to maintain rates at their current level until 2015.