Israel central bank chief Stanley Fischer resigns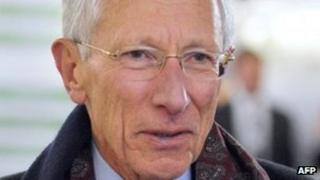 Stanley Fischer, governor of the Bank of Israel is to step down on 30 June, two years before his term ends.
No reason has yet been given for his resignation.
Mr Fischer had previously served as chief economist of the World Bank and deputy managing director of the International Monetary Fund.
He is due to hold a news conference on Wednesday, but said in a statement that he had already informed prime minister Benjamin Netanyahu.
Prof Fischer is known to generations of economics students as the author along with David Begg and Rudiger Dornbusch of one of the standard text books in the subject.
He also advised Federal Reserve chairman Ben Bernanke on his thesis and taught European Central Bank governor Mario Draghi.
He was appointed Bank of Israel governor in 2005 and was appointed to a second and final five-year term in 2010.
The 69-year-old economist was credited with helping the Israeli economy through the financial crisis in better shape than many other countries.