Easyjet cuts first-half loss forecast as revenues rise
24 January 2013

From the section

Business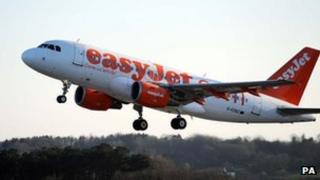 Low-frills airline Easyjet made higher total revenues in the first quarter and has cut its loss forecast.
Total revenue grew 9.2% to £833m for the quarter ended 31 December, the company said in a statement.
It expects first-half pre-tax losses to fall to between £50m and £75m, compared with £112m for the same period the year before.
The number of passengers flying with the airline grew by 6.2% to 13.7m in the quarter.
Easyjet chief executive Carolyn McCall said the company "made a strong start to the year due to a combination of management action, competitor capacity reductions and the benign operating environment."
Its "Europe by Easyjet" short-haul campaign was one reason why revenue-per-seat had grown by 3.9% in the quarter, taking into account currency fluctuations.
The airline is still under pressure from founder Sir Stelios Haji-Ioannou. Last week, he said he and his brother and sister each sold 200,000 shares in the company, taking their combined holding to just below 37%.
In an open letter to shareholders, he threatened to sell more shares in the company if it expanded its fleet any further, believing such a move would "destroy shareholder value."
Sir Stelios has been arguing against the airline's expansion since 2008.
As of 31 December 2012, Easyjet had 213 planes in its fleet, comprising 56 A320s and 157 A319s.
The company is considering switching to more cost-efficient 180-seater aircraft, replacing its 156-seater A319s. This would increase capacity by "3% to 5%, in line with Easyjet's strategy of delivering sustainable growth and returns," it said.
Delivery of next-generation aircraft would not be until after 2017, the company said.
Easyjet's shares were up more than 5% to 899p in afternoon trading and have more than doubled over the year.