Ford to hire 2,200 extra US staff to meet growing sales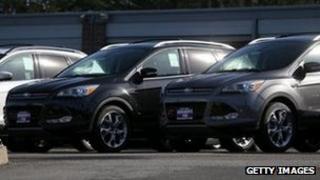 Ford plans to hire 2,200 new staff in the US this year, in response to the continuing rise in American car sales.
The country's second-largest carmaker by sales, it said it would hire engineers, computer programmers and other office workers.
Ford's US car sales totalled 2.3 million last year, 5% higher than 2011.
Industry-wide US sales in 2012 came in at 14.5 million, a five-year high. Ford predicts this figure will rise to between 15 and 16 million this year.
Honda and Nissan have also recently announced that they will be taking on extra staff in the US.
Nissan is hiring an additional 400 people over the next two years to make its Murano sports utility vehicle in Mississippi, while Honda is adding 50 new jobs in Ohio where it will build its new hybrid Accord sedan car.
US car sales are rising as the country's economy continues to grow. More cheap loans are becoming available as the banking sector recovers from the turmoil caused by the credit crisis of recent years.
By contrast, car sales in Europe are falling because of continuing recession in southern European nations that are battling to reduce their sovereign debt levels.
On Friday, Honda said it was planning to cut 800 jobs at its factory in Swindon, UK, blaming weak demand across Europe.