Mortgage lenders predict pick-up in sales and lending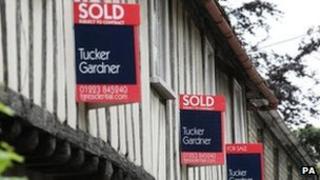 House sales and mortgage lending should rise next year, says the Council of Mortgage Lenders (CML).
It predicts that activity will be boosted by the government's Funding for Lending Scheme, which channels cheap funds to banks and building societies.
The CML said sales had already risen this year, and should increase again in 2013, to about 950,000.
But it warned that demand for mortgages might be hindered by the poor state of the economy.
"Whereas the Funding for Lending Scheme (FLS) was conceived by the UK authorities to mitigate the worst impacts of a potential fresh credit crunch, its launch has in fact coincided with a more positive external funding environment, in part due to European Central Bank actions," said the CML's chief economist Bob Pannell.
"Given this more benign context, in our view the FLS now has the potential to underpin a modest pick-up in mortgage lending activity.
"A key test, however, will be the extent to which greater borrower appetite materialises in response to better credit availability," he added.
Mark Harris, of mortgage broker SPF Private Clients, said: "Record low interest rates have resulted in some of the cheapest mortgages ever seen so it is no surprise that lending volumes are slowly ticking up month by month and that the year has seen stronger lending volumes than initially forecast.
"However, the biggest barrier to home ownership remains the deposit as first-time buyers struggle to drum up the tens of thousands of pounds required to get on the housing ladder," he pointed out.
The CML's outlook echoes those of other commentators, such as the Royal Institution of Chartered Surveyors (Rics).
It said last week that property sales would rise next year to their highest level since the start of the credit crunch in 2007, although this would still be 40% lower than then.