Next Media agrees $600m sale of Taiwanese assets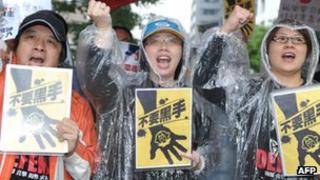 Hong Kong-based Next Media has agreed to sell its Taiwan print and television units to two local consortia for 17.5bn Taiwanese dollars ($600m; £375m).
There have been protests against the deal in Taiwan amid concerns it may hurt the independence of the media.
The fears have been stoked by the involvement of Want Want China Times Group, Taiwan's biggest media firm, in one of the consortia.
If the deal goes through Want Want will own nearly 50% of Taiwan's news media.
The deal still requires approval by Taiwanese authorities.
China fears
There have also been concerns over the influence China may have on the news media once the deal is completed.
These have in part arisen from Want Want China Times Group's business interests in the mainland.
The group is owned by Want Want Holdings Limited, chaired by Tsai Eng-meng, one of the largest snack food makers in China.
Mr Tsai is also known for his pro-China views.
Opponents of the deal say that if it does go through, Beijing may start to play a role in editorial decisions.
"China is having more and more control over Taiwan's politics and economy," Chen Siao-yi, head of the Taiwan Reporters Association, was quoted as saying by the Associated Press news agency.
"Now they want public opinion too, because it is the missing piece of their puzzle."
China does not recognise Taiwan, regarding the island as a breakaway province and wants unification.