Peace finally breaks out on the banana export front
9 November 2012

From the section

Business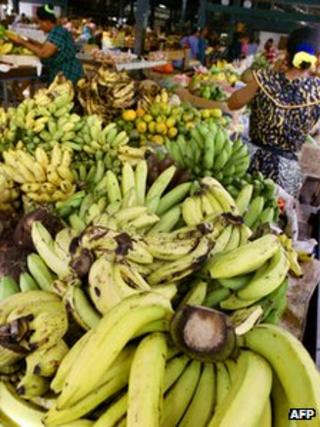 The head of the World Trade Organization, Pascal Lamy, has called time on the banana war.
He declared the dispute, which pitted smallholder farmers in the Caribbean against large US multinational producers, is at an end.
And about time too, you might say. It has taken over two decades to sort out. The original complaint was started by Costa Rica back in 1991.
At the heart of the dispute is whether the EU should be able to provide preferential terms of trade by way of quotas and tariffs to their former colonies in Africa, the Caribbean and Pacific.
I should declare an interest. I spent three years working as a consultant for the Caribbean Banana Exporters' Association in the late 1990s.
Caribbean states argue they need favourable trade terms because many of their farmers grow bananas on steep terrain and they don't have the economies of scale to compete with multinational companies in Central America.
The Caribbean is already suffering from poverty, high unemployment and emigration.
And the fear is that if these farmers are not growing bananas, they will turn to the more lucrative cash crop of marijuana.
Preferential trading
Of all the Caribbean economies, the Windward Islands are one of the most dependent on banana exporters. There has been a dramatic collapse in exports over the last two decades on islands such as Dominica.
In 1988, the banana export-to-gross-domestic-product ratio in Dominica was 22%. Twenty years later, it was just 1.5%.
"At the peak in 1988, there were about 20,000 workers on the island dependent on the industry. Now the figure is about a quarter of this or maybe even less," says Julian Elwin, from Dominica Agricultural Producers and Exporters Limited.
The Caribbean started exporting bananas to Britain in the 1950s to replace sugar exports which had become unprofitable.
The preferential trading terms continued after Britain joined the European Union.
Over the years, Caribbean producers have enjoyed favourable terms through a fiendishly complex regime of quotas, which guarantee access, and tariffs, which makes it more expensive for other countries to export to the EU.
A bitter trade dispute ensued, which pitted Central American producers against the Caribbean.
Why should countries such as France and Britain, they argued, be able to favour former colonies?
El pulpo
The likes of Guatemala and Honduras argued they are developing countries too and shouldn't be discriminated against by a banana regime that some described as neo-colonialist.
One of the biggest banana producers in Central America is Chiquita, which took over United Brands, formally known as United Fruit.
It's ironic because United Fruit itself has been heavily criticised for taking a neo-colonialist approach to business.
It used to be one of the largest employers in Central America and was known as "el pulpo", the Octopus, by local journalists because of its reputation.
It was accused of frequently bribing government officials and exploiting workers.
In the 1950s, United Fruit was also accused of lobbying the US government to back the overthrow of a democratically elected government in Guatemala by the military.
'Declining exports'
But the Caribbean's problems are not just limited to the EU import regime, according to Julian Elwin.
"The decline in our banana industry is also down to mismanagement, poor quality assurance and credit management which has led to key international buyers pulling out," he says.
"We need to refocus on agriculture and other areas of the economy, such as tourism, to cushion our declining exports of bananas."
The EU quota system which guarantees exports has already ended. The new settlement leaves in place a tariff system in which preferential rates will gradually decrease for Caribbean exporters over the next five years.
Pascal Lamy said the dispute "could finally be put to bed", and added it had lasted so long that quite a few people working on the case retired long ago.
The banana war may have drawn to a close, but the fight for small Caribbean island states to diversify their economies away from this once-lucrative crop has intensified.