News Corp profits up threefold on NDS sale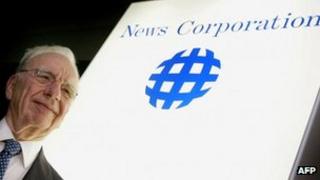 Rupert Murdoch's News Corp has reported a sharp rise in profits thanks to a one-off asset sale and strong revenue growth at its cable networks division.
Net profit for the three months to the end of September was $2.3bn (£1.4bn), almost three times the $786m the company made a year earlier.
Total revenue rose 2% to $8.14bn, which included $1.38bn from the sale of pay-TV encryption company NDS.
Boosted by advertising sales, cable networks' revenue grew 16% to $2.45bn.
The results were better than analysts had expected and News Corp shares rose about 3% in after-hours trading.
Publishing problems
"Our operational discipline and focus on innovation continued to drive the company's momentum in our fiscal first quarter, led by double-digit growth in our channels business and the global success of our film and television content," said Mr Murdoch.
He said the company managed to grow revenue despite being hit by a stronger dollar. He also said he would provide further details later this year of the company's proposed split of its entertainment and publishing businesses. Mr Murdoch will chair both divisions.
Operating income at cable networks was up 23% at $953m, while the films and television divisions saw more modest growth in income.
However, operating income at the publishing division almost halved, to $57m from $110m, largely due to a fall in advertising revenue.
The fall would have been greater had it not been for the contribution of the division's UK business, which benefited from the launch of the Sunday Sun.
After a difficult year which has seen the phone-hacking scandal in the UK, many shareholders voted last month to separate the roles of chief executive and chairman, currently held by Mr Murdoch.
But because the family holds 40% of the voting rights, the notion was rejected.