Anglo American boss Cynthia Carroll to step down
26 October 2012

From the section

Business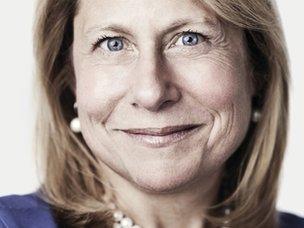 Cynthia Carroll is to step down as chief executive of mining giant Anglo American after six years in the job.
Earlier this year a group of shareholders, unhappy with a sharp drop in profits, asked the chairman to look for a new chief executive.
Anglo said it was her decision to leave and chairman Sir John Parker paid tribute to her leadership.
No date has been set for her departure, which will leave just two women running the biggest UK-listed companies.
They are Angela Ahrendts at Burberry and Alison Cooper of Imperial Tobacco. Dame Marjorie Scardino, currently the chief executive of Pearson, is stepping down at the end of the year after 16 years in the job.
Anglo American shares closed up 4%, the biggest gainer among the 100 top quoted companies.
Cynthia Carroll, a 55-year-old American, said it had been a difficult decision to leave.
"I am extremely proud of everything we have achieved during my period," she said.
"Next year I will be entering my seventh year as chief executive and I feel that the time will be right to hand over to a successor who can build further on the strong foundations we have created."
Legacy
Sir John said she had "developed a clear strategy, based on a highly attractive range of core commodities, and created a strong and unified culture and a streamlined organisation with a focus on operational performance".
"Her legacy will include, among many other things, a step change improvement in safety, sustainability and the quality of our dialogue with governments, communities and other stakeholders. Her values represent the very best of Anglo American."
A geologist by training, Cynthia Carroll was the the first woman and the first non-South African to be appointed to the role of chief executive at Anglo American when she was given the top job in 2007.
She has come under increasing pressure from investors over the company's share price, which has fallen by a third this year, and the deteriorating industrial relations at its platinum operations in South Africa.
A continuing wildcat strike means the company is losing output of four and a half thousand ounces of refined platinum every day, which equates to a loss of almost $7m (£4.3m).
But there have also been concerns about its Minas Rio iron ore project in Brazil, as well as problems in its Chilean copper operations.
Contenders
Nik Stanojevic, mining analyst at Brewin Dolphin said her performance had been mixed: "She made significant improvements in certain areas, particularly in cost cutting, removing various layers of management and streamlining the business. Importantly she also improved relations with the South African government," he told BBC News.
"But her time also saw cost overruns and long delays at the Minas Rio iron ore project.
"Her departure does nothing to solve the key problems facing the company in the medium term."
Mr Stanojevic added that there were some big names in the business who could be in line to take over, including the current boss of mining giant Xstrata, Mick Davis, who will leave his post after it completes its merger with Glencore.
Also potentially available are Chip Goodyear, the former chief executive of BHP Billiton, and Alex Vanselow, another former BHP Billiton executive.
Charlie Gibson, mining analyst at Edison Investment Research, said her successor would not necessarily be more successful: "The 'new broom' may not be able to do much better. I have a saying - no mining plan survives past its first contact with a rock - it is such an unpredictable business, there is always a geological fault, or a slippage or any number of unexpected hitches."
Analysts at Macquarie bank calculated that Anglo American is worth $25bn less than it was when Cynthia Carroll became the chief executive, while its major competitors have grown, or at least not lost value.