Mulberry profit warning hits shares
23 October 2012

From the section

Business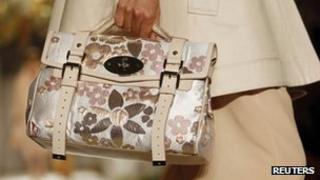 Shares in Mulberry, famous for its leather bags, have dropped by a quarter after the luxury goods firm issued a profit warning.
Slower-than-expected international sales growth and falling wholesale revenues meant this year's profits will be lower than last year's, it said.
Wholesale shipments had fallen because of lower orders from Asia and changes to its distribution network.
However, Mulberry said its business remained "strongly profitable".
Shares in Mulberry were ended down 314 points or 24% at 1006 pence.
'Challenging environment'
The company has enjoyed rapid growth in recent years, and in a trading update Mulberry said that total revenues for the six months to 30 September rose by 6% to £76.5m.
Total UK retail sales increased by 10% in the six-month period, with international sales up 41%. However, despite the big jump in international sales, Mulberry said the rise did not meet its expectations.
Wholesale shipments fell 4% in the period, which Mulberry said was partly due to changes to wholesale accounts in order to improve the quality of its distribution network.
It also cited "a more challenging external environment in Asia, resulting in cautious ordering by franchise partners", for the drop in wholesale trade.
The lower wholesale revenues means that Mulberry now predicts annual revenues will be lower than market expectations.
"As a result of this, combined with the previously highlighted investment being made in international retail expansion, we now expect full year profits to be below last year," Mulberry said.
"However the business continues to be strongly profitable and generate significant cash to fund our future expansion."
The firm added that newly opened stores were performing "satisfactorily", and said it was on track to open 15-20 new stores in the current financial year.
Mulberry is not the only luxury brand to have warned on profits in recent times. Last month, fashion house Burberry issued a profit warning after seeing weaker global sales.