Bank of England meeting unanimous on no QE change
17 October 2012

From the section

Business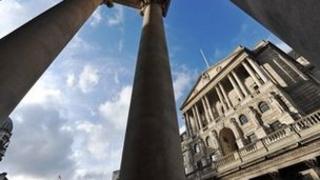 The Bank of England's policy-setting committee decided unanimously to keep interest rates on hold for another month and keep the quantitative easing programme unchanged at £375bn.
Although none of the nine members voted to increase the amount of QE, the minutes suggested that some did think this would be necessary in future.
The Bank thinks that output will be flat for the rest of the year.
This is "a weaker path" than it had forecast in August, it said.
It now thinks that the pick-up in the economy will come a little later than anticipated.
"There were some differences of view between members about the outlook and the likelihood that further easing in policy would be required.
"But there was agreement that there was little to be gained at this meeting in changing the current programme of asset purchases," the minutes said, referring to quantitative easing, in which it tries to stimulate the economy by buying up government bonds.
Exports concern
Economists were split on whether the bank would expand QE over the next few months to try to get more money into the economy through banks and another financial institutions.
Most consider next month's GDP data to be crucial to the Bank's thinking, as it will show whether the economy has returned to growth.
The Bank will publish its next quarterly Inflation Report, which is its in-depth look at the outlook for inflation and the economy, in November. So it may not do anything until then, analysts suggest.
"I think they'll sit on their hands in November," said Alan Clarke at Scotiabank.
"I think they are putting more emphasis on the Funding For Lending scheme and letting that do its thing."
That scheme, launched in August, gives banks access to cheaper funds in the hope that they will offer cheaper loans and mortgages to customers, encouraging them to spend and invest.
In the minutes, which outline the views of the members as well as giving an update on developments in the economy since its last monthly meeting, said problems overseas had been a drag on exports.
But while this was "a cause for concern", the committee was reassured by the response of international authorities, in particular the European Central Bank.
Its bond-buying programme had reduced banks' funding costs, including in the UK, the Bank said.