Softbank to take control of Sprint Nextel for $20bn
15 October 2012

From the section

Business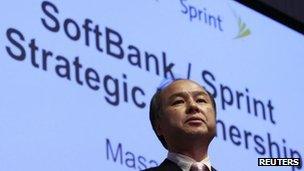 Japanese mobile phone company Softbank is to buy 70% of US carrier Sprint Nextel for $20.1bn (£12.5bn).
The deal will be the biggest overseas acquisition by a Japanese firm.
The takeover of the number three mobile carrier in the US will make Softbank one of the world's three biggest mobile phone operators, with 96 million users.
But Japanese investors have not welcomed the widely-expected deal. Softbank shares fell 6% on Monday on top of the 16.9% they lost on Friday.
While Softbank shares fell, Sprint shares rose 14.3% in the US on Friday.
About $12bn of the money will go to Sprint shareholders, with the rest being used to strengthen its balance sheet.
'Start again'
If it is approved by shareholders and regulators, the companies expect to complete the transaction by the middle of 2013.
"Our track record of innovation, combined with Sprint's strong brand and local leadership, provides a constructive beginning toward creating a more competitive American mobile market," said Softbank's chairman and chief executive Masayoshi Son.
"It could be safe if you do nothing and our challenge in the US is not going to be easy at all," Mr Son told a news conference.
"We must enter a new market, one with a different culture, and we must start again from zero after all we have built. But not taking this challenge will be a bigger risk."
Under the terms of the deal, Dan Hesse is to stay in his job as chief executive of Sprint.
It is reported that the transaction is being funded entirely by loans from four banks: Mizuho Financial, Sumitomo Mitsui Financial, Mitsubishi UFJ and Deutsche Bank.
There has been some concern from analysts about the amount of additional debt being taken on.
Sprint has lost money in each of the past 19 quarters and has net debt of about $15bn, while Softbank already has net debt of about $10bn.
Credit ratings agency Standard & Poor's has warned that the deal, "may undermine Softbank's financial risk profile".
It has placed Softbank's debt on CreditWatch with negative implications.