Bank of England MPC minutes hint at more QE
19 September 2012

From the section

Business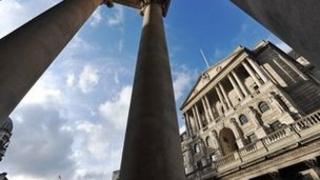 Some Bank of England policymakers think extra stimulus for the economy through more quantitative easing may be needed despite a worsening inflation outlook.
Minutes from the latest Monetary Policy Committee meeting showed some members thought more QE was "more likely than not to be needed in due course".
One member thought there was "good case" for more QE immediately.
However, all nine MPC members voted to keep rates on hold at 0.5% and to not increase the QE programme above £375bn.
Under QE, the Bank buys government bonds, hoping to create beneficial knock-on effects for the economy.
More stimulus?
The minutes showed that MPC members think inflation is unlikely to slow as quickly as it had previously forecast in August.
"The rise in oil prices and the probable increase in utility and some food prices meant that the near-term outlook was for a less rapid fall in inflation than the Committee had thought at the time of its August Inflation Report projections," the minutes said.
Figures released on Tuesday showed that inflation as measured by the Consumer Prices Index (CPI) fell to 2.5% in August, down from 2.6% in July.
Inflation is now much closer to the Bank of England's 2% target, having dropped from a peak of 5.2% in September last year.
The minutes showed most members found the decision to maintain QE at the current level of £375bn "relatively straightforward", although some of these members felt extra stimulus would be needed in the future.
Several analysts have said they think the Bank will increase the QE programme above the current level.
Howard Archer, an analyst at IHS Global Insight, said his firm "strongly suspect" the Bank will increase the programme by another £50bn in the fourth quarter of 2012.
Brian Hilliard of Societe Generale agreed, noting that this was the second consecutive MPC meeting at which increasing bond buying had been discussed.
"I don't think that is going to sway the majority until November, but the fact that it has been discussed two meetings in a row does point to a further expansion of QE in the November meeting," said Mr Hilliard.