Trinity Mirror appoints former HMV head
30 August 2012

From the section

Business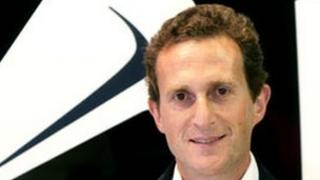 The head of HMV, Simon Fox, has been appointed by newspaper group Trinity Mirror to be their new chief executive.
He has run the music, film and games retailer since 2006, during which time sales of CDs, its core product, steadily declined owing to competition from online retailers and downloads.
Trinity Mirror has also suffered a long-term slide in sales, with circulation and advertising both down.
Mr Fox will fill the shoes left by Sly Bailey, who stood down last month.
Trinity Mirror's main national titles are the Daily Mirror, Sunday Mirror and the People.
'Turbulent period'
Mr Fox announced his intention to leave HMV earlier this month and will start his new job on 10 September.
The announcement by Trinity Mirror comes three weeks after the group revealed a 21% rebound in profits during the first half of this year.
The surprise results, which sparked a bounce in the company's share price, were due to cost-cutting carried out by Mr Fox's predecessor. Sales, however, declined a further 4%.
Mr Fox has been hired as a turnaround specialist, having also previously worked at Kesa Electricals, the Anglo-French former owner of another struggling retailer, Comet.
"He has a strong strategic background and understands structurally changing sectors," said Trinity Mirror in its press release.
"Simon led HMV through a turbulent period for the entertainment retailing industry and played an invaluable part in securing a profitable future for HMV."
At HMV, he closed stores and increased sales of video games, and last year sold off the Waterstones book chain.
In May, HMV said it intended to return to profitability next year thanks to the changes it had made.
Pay
The former Trinity Mirror boss, Sly Bailey, left in July - six months earlier than expected.
She had incurred shareholder anger at her high remuneration, despite a 90% decline in the company's share price over the previous five years under her tenure.
Staff were also angered by the cuts she carried out, which included the sacking in May of the editors of the Daily Mirror and Sunday Mirror and the merger of the titles into a single seven-day operation.
In 2011, Ms Bailey received a total of £1.8m in cash and shares.
According to Trinity Mirror, Mr Fox's total first-year pay package will be worth £1.95m, comprising:
£500,000 in salary
Up to £375,000 in a performance-linked bonus, split equally between shares and cash
A £75,000 one-off cash payment in lieu of pension
£1m of shares as part of the company's performance-linked "long term incentive plan", of which £600,000 is described as a "one-off joining grant".