JJB Sports puts itself up for sale
30 August 2012

From the section

Business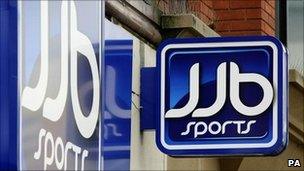 Sports clothing and equipment chain JJB Sports has put itself up for sale after it failed to raise new funds to help revamp its stores.
JJB also warned shareholders that any rescue deal may see their holdings in the company rendered worthless.
In July, JJB said that sales had deteriorated owing to poor weather and weak demand for replica football kits during the European Championships.
The Wigan-based retailer has 180 stores and employs about 4,000 people.
Hurt by the economic downturn, it has also struggled to compete with rival Sports Direct.
JJB said that in the six weeks to 26 August, like-for-like sales had fallen by 3.3%.
Falling short
Earlier this year, JJB announced a £30m investment to help turn around the business, including £20m from US retailer Dick's Sporting Goods and £10m from existing shareholders.
However, earlier this month, shares in JJB sank by a quarter after Dick's Sporting Goods said it had in effect written off its entire investment.
In a statement, JJB said it had continued talks over fund-raising and the "restructuring of its store portfolio" to enable it to improve trading.
"However, following these discussions, the directors do not believe that the company will be able to raise the level of funds required to implement the turnaround," it said.
"As a result, the board has decided to conduct a formal sale process of the company."
JJB said it had debts of about £36m.
"Given the level of current debt within the company, there can be no assurance that any proposal or offer that may be made would attribute value to the ordinary shares of the company."
JJB's shares plunged following the announcement, dropping by almost two pence to 0.39p.
David McCorquodale, corporate finance partner at KPMG, who is leading the JJB sale process, said: "While it is very early days, I anticipate significant interest in the opportunity to acquire this leading multichannel authentic sports retailer.
"There is a real place on the British High Street for a retailer of performance gear for the sports enthusiast."