Daikin to acquire US rival Goodman Global for $3.7bn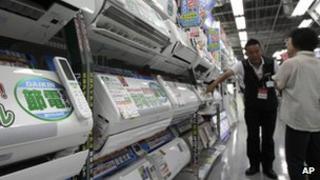 Japanese air-conditioner maker Daikin has agreed a deal to buy US rival Goodman Global for $3.7bn (£2.3bn) in a bid to boost its share of the US market.
Japanese firms have been looking to expand in overseas markets amid a weak economy and slowing domestic demand.
A strong Japanese currency has also helped boost their spending power.
The US is the world's biggest market for heating, ventilating and air-conditioning (HVAC) systems.
Shares of Daikin fell as much as 9% on the Tokyo Stock Exchange, before recovering to close 3.5% down on the day, because of worries that the firm may be paying a premium to acquire its rival.
However, analysts said the company did not have many options.
"They've tried for so long to break into the US residential air-conditioner market with their ductless technology, but it's just not happening," said Edward Bourlet, a machinery analyst at CLSA Asia Pacific Markets in Tokyo.
"So acquiring into that market is the only way to go."
Daikin had been keen to buy Goodman for some time, but the talks were suspended after last year's earthquake and tsunami in Japan, because of the uncertain global economic environment.
Daikin said in a statement that it planned to use a "combination of internally generated funds, public policy financing, straight bond issuances and bank loans" to fund the deal.