Fairfax shares fall to record low after assets writedown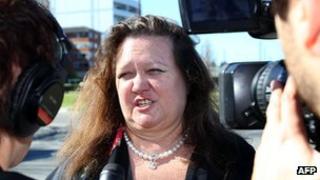 Shares of Fairfax Media have hit a record low after the firm wrote down the value of its papers by almost A$2.5bn ($2.6bn; £1.6bn).
The writedown resulted in the firm reporting a net loss of A$2.73bn for the last financial year.
The stock price was also hurt by the failure of Gina Rinehart, the firm's biggest shareholder, to sell almost 5% of her stake at 50 cents per share.
Its shares fell as much as 12% to 44.5 cents in Sydney.
The firm warned that uncertain economic conditions, which have hurt its advertising revenue, were likely to continue, further denting investor morale.
Growth concerns
Fairfax Media publishes some of Australia's best known newspapers including The Age and the The Sydney Morning Herald.
It enjoys a considerable share of the Australian market. However revenues have fallen due to a cut in spending by potential advertisers and the growing popularity of online publications.
Fairfax said its revenues had dropped 6% in the last financial year. It added that this year's revenues are currently down by 10%.
"I have been in this industry since the late 1970s and I have never seen an advertising environment of the type we are currently experiencing," Greg Hywood, chief executive of Fairfax said after the earnings release on Thursday.
"We are managing Fairfax Media with no expectation of an early recovery," Mr Hywood warned.
The firm has already announced plans to streamline its business, including 1,900 job cuts and the closure of two printing facilities in Sydney and Melbourne.