Santander SVR mortgage rate to rise to 4.74%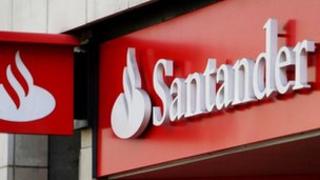 Santander has written to several hundred thousand mortgage customers, warning them that their standard variable mortgage rate (SVR) is to rise to 4.74% from 4.24%.
The increase is scheduled to come into effect on 3 October 2012.
The rise will cost borrowers an extra £26 per month on a £100,000 mortgage.
Santander said the change was due to increasing costs, both of raising mortgage funds from other lenders and of running a bank.
A Santander spokeswoman said: "For the last three years the amount it costs us to provide mortgages and the rates we offer our savings customers have been increasing despite the base rate remaining static."
"Indeed, for some time the correlation between base rate and mortgage and savings rates has been weakening.
"Additionally, the cost of running a bank in the UK has increased dramatically through a combination of increased liquidity, capital and funding requirements," she added.
Aaron Strutt, of mortgage brokers Trinity Financial, said: "If you are sitting on your lender's standard variable rate, there is always a danger they will hike your monthly repayments without much notice."
"There are some fantastically good remortgage deals available so it's a good time to look at switching lenders," he added.
Mark Harris of mortgage brokers SPF Private Clients said: "The move puts its SVR towards the upper end of the scale when compared with other big lenders such as Halifax, Woolwich and Nationwide.
"The good news is that there is a mortgage rate war with prices falling to new lows, particularly on five-year fixed rates.
"But much depends on the equity you have in your home as the most competitive rates are only available to those with at least 40%," he added.
Rising trend
Last month, a number of big lenders, including Santander, launched cheap, long-term, fixed-rate mortgages.
Typically their interest rates were pitched at just under 3%, though they have generally been revised upwards and are now on offer with interest rates slightly higher than 3%.
So far this year seven other lenders, apart from Santander, have raised their SVRs, according to the financial information service Moneyfacts.
In June, the Bank of Ireland raised its SVR to 3.99% from 2.99%, and in September it is due to rise to 4.49%.
In May, the Co-op Bank and its Britannia subsidiary put up SVRs to 4.74% from 4.24%.
Also in May, the Halifax raised its SVR to 3.99% from 3.5%.
And that month the Clydesdale and Yorkshire banks, part of the same group, raised their SVRs to 4.95% from 4.59%.
The Santander spokeswoman said: "Our competitors have increased their SVRs by similar amounts earlier this year, reflecting the same market dynamics, and while we were able to delay this decision through the first half, conditions now require us to follow them and move to adjust our rate."