BHP Billiton profits fall on lower commodity prices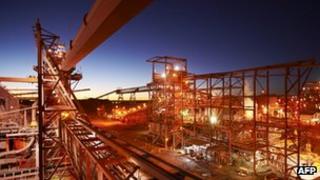 Australian miner BHP Billiton has reported a sharp drop in annual profits, due in part to weaker commodity prices.
Profit after tax for the year to the end of June was $15.4bn (£9.8bn), down 35% on the previous year. Revenue was virtually unchanged at $72.2bn.
It said it would delay plans to expand its Olympic Dam mine in Australia.
BHP added that weakness in manufacturing and construction sectors would continue to hit commodity prices.
However, the miner said it expected growth, particularly in China, to lead to improved demand in the first half of next year.
"The global macroeconomic environment is expected to stabilise before improving in the first half of the 2013 financial year," the company said in its results statement.
"This recovery will provide support for commodity demand and pricing in the short to medium term."
Falling prices
Profits for the year to the end of June were hit by weaker prices for its core products, particularly for base metals and iron ore, where pre-tax earnings fell by almost $3bn, BHP said.
Equivalent earnings for aluminium, manganese and stainless steel fell by a combined $1.2bn.
A number of exceptional items also knocked profit, including a $1.8bn write-down on the value of its US Fayetteville shale gas assets, which were bought from Cheakespeake Energy in 2011.
The company also wrote off $242m due to delays in the Olympic Dam project.
"As we finalised all the details of the project in the context of current market conditions, it became clear that the right decision was to continue studies to develop a less capital intensive option to replace the underground mine at Olympic Dam," said BHP chief executive Marius Kloppers.