Rank takeover of Gala sent to Competition Commission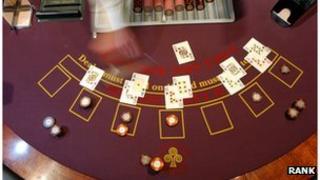 The proposed takeover by betting firm Rank Group of Gala Casinos has been referred by the Office of Fair Trading (OFT) to the Competition Commission.
The OFT said the move was on "concerns the merger will substantially reduce competition in the casino sector".
Rank, which is now mulling its options in light of the OFT's move, last week reported a 9% rise in annual profits.
That was mainly down to its Grosvenor Casinos arm and its online operation, especially the Mecca bingo brand.
Last week. Rank said it aimed to complete its purchase of Gala during September.
Last Updated at 22 Feb 2018, 16:30 GMT
*Chart shows local time
| price | change | % |
| --- | --- | --- |
| 222.50 p | 0.00 | 0.00 |
If it is ultimately successful in buying Gala this will add 23 casinos to its 37 Grosvenor outlets, making it the UK's biggest casino operator.
But the OFT said on Monday that its investigation found that Rank and Gala were two of the three large national casino operators in the UK, and that following any merger, "there would be only two large national casino operators, Rank and Genting".
It continued: "The OFT is concerned that the merger would reduce competition both at a national level and in nine local areas. A reduction in competition in the casino sector could result in a worse deal for consumers."
The OFT said it was referring the merger to the Competition Commission "for an in-depth review".