Best Buy appoints new chief as buyout talks fail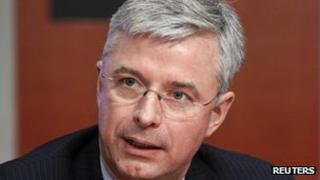 US electronics chain Best Buy has appointed a new chief executive in an attempt to revive its fortunes.
Hubert Joly, previously chief executive at private travel firm Carlson, will step into the role from September.
The appointment comes as talks with the firm's founder, Richard Schulze, over taking the company private broke down.
Best Buy, which owns mobile phone retailer Carphone Warehouse, said that Mr Schulze had rejected an offer to conduct due diligence on the deal.
Mr Schulze, who owns just over a fifth of Best Buy, had wanted to buy the rest of the chain for between $24 and $26 a share.
He said he was "shocked" and "disappointed" that discussions over a possible buyout had broken up.
"But as the largest shareholder of Best Buy, I remain hopeful that the board will engage in good faith discussions with us for the benefit of shareholders, employees and customers," he added.
Best Buy said late on Sunday that it had shown "great flexibility", by offering Mr Schulze a proposal that would have given him 60 days to put together a bid for the company and present it to shareholders from January.
RBC Capital Markets analyst Scot Ciccarelli said: "It is clear to us that there is quite a bit of acrimony between Mr Schulze and the board of directors and that this distracting saga isn't close to being finished."
Best Buy has been struggling to compete with online rivals such as Amazon which are able to sell goods at lower prices.
It made a loss of $1.23bn in the year to March, compared with a profit of $1.28bn the previous year