China eyes African Barrick Gold stake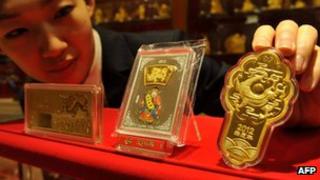 China's state-owned miner, China National Gold, has held preliminary talks to buy a stake in African Barrick Gold (ABG), one of Africa's largest gold miners.
Demand for gold in China has surged and it is expected to become the world's biggest market for the metal this year.
African Barrack has large reserves but has struggled to meet production targets.
Barrick Gold, the parent of ABG, said the talks were at an "early stage".
"There can be no certainty that these discussions will result in the acquisition of all or part of Barrick's holding in ABG," Barrick Gold said in a statement.
Risk v reward
ABG's production levels have been falling in recent years.
Last year, the company produced almost 688,000 ounces of gold. That was down from 701,000 ounces in 2010 and 716,000 ounces the year before.
At the same time, its cost of production has gone up. According to the firm, it cost it $692 (£440) to produce an ounce of gold last year, a jump of more than 20% from 2010.
The firm has also been hurt by issues such as power cuts as well as theft of fuel.
As a result, its shares have taken a hit, falling almost 30% in the past one year.
Analysts said that given these issues, the miner was a risky bet for potential suitors.
"African Barrick has always looked like it offered good value albeit at a high risk, and if the potential acquirer can get the asset and is comfortable with the risk, you will be able to get a reasonable set of assets for a good price," said Hunter Hillcoat an analyst with Investec.