Singapore exports rise in July amid boost from Asia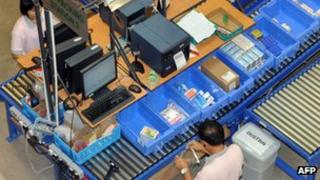 Singapore's non-oil exports jumped in July as robust demand from Asia helped offset a decline in shipments to Western economies.
Exports rose 5.8% from a year earlier, boosted by rise in shipments to China, Hong Kong, South Korea and Taiwan.
However, exports to the US and eurozone fell amid the ongoing economic issues in those regions.
Analysts said shipments, which include electronics and pharmaceuticals, may slow in the coming months.
"The concern is that going forward the US outlook is still rather uncertain given the fiscal headwinds and our view that Europe's recession will probably deepen," said Chua Hak Bin, an economist at Bank of America Merrill Lynch.
Singapore's non oil-exports are dominated by the electronics, petrochemicals and pharmaceutical sectors.
Electronics shipments rose by 2% from a year earlier and petrochemicals exports gained 11.6%.
Selena Ling, head of treasury and research at OCBC Bank, said that even though the growth in sectors such as electronics was not a sharp one "it looks like it has stabilised a little".