Wal-Mart profits and sales rise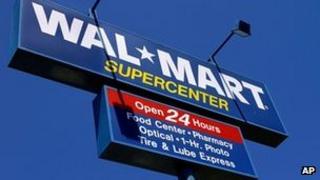 Wal-Mart has reported a 6% rise in profits for the three months ending in June and raised its annual forecast.
The world's biggest retailer made $3.8bn in the April-to-June period, compared with $3.6bn in the same period last year.
Net sales also rose, from $108.6bn in the second quarter of 2011 to $113.5bn in the same period this year.
Net sales at Wal-Mart International, which includes Asda in the UK, rose more than 6% to $32bn.
Sales at Asda stores open for more than a year, excluding fuel and tax, increased 0.7% from a year ago.
Sales at its members-only discount chain Sam's Club also rose, despite the difficult economic climate in Wal-Mart's home market, the United States.
Chief executive Mike Duke said: "Given continuing economic pressures, we believe that our price leadership and value are growing in importance to customers across income levels."
Wal-Mart said its full-year earnings per share could be slightly higher than forecast, between $4.83 and $4.93.
During the second quarter, the company also returned $3.1bn to shareholders through dividend payments and by buying back shares on the stock market.
Mexico allegations
Wal-Mart did not respond to fresh allegations of wrongdoing at its Mexico arm, Walmex, which emerged earlier this week.
US Congress is currently investigating claims Walmex paid $240m in bribes as recently as 2005 in order to win approval for new stores.
But, two politicians now suggest this probe could be expanded to money-laundering and tax evasion in Mexico and five other countries.
US congressmen Elijah Cummings and Henry Waxman sent a letter to Mr Duke which said: "We have obtained internal company documents, including internal audit reports, from other sources suggesting that Wal-Mart may have had compliance issues relating not only to bribery, but also to 'questionable financial behaviour' including tax evasion and money laundering in Mexico."
When the bribery allegations first arose in April, Wal-Mart said it was co-operating with the inquiry, but Mr Cummings and Mr Waxman who are involved in the investigation said Wal-Mart had failed to provide requested documents and briefings.
They have given Wal-Mart until 28 August to respond to their calls.