Retail sales rise points to stronger UK economy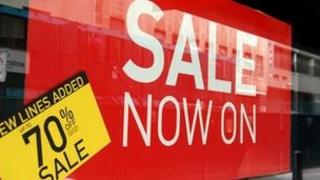 Better-than-expected retail sales figures have helped to raise hopes that the UK's recession may not be as deep as initially thought.
The Office for National Statistics said sales volumes in July rose by 0.3%, and were up 2.8% from a year earlier.
It also revised June's monthly sales increase up to 0.8% from 0.1%.
Analysts now believe that initial estimates that the economy shrank by 0.7% in the April-to-June quarter are overly pessimistic.
Stronger rises in factory output and the construction sector, together with continued falls in unemployment, could mean national income as measured by gross domestic product (GDP) is not shrinking as quickly as first estimated.
Figures released on Wednesday showed that the number of people out of work in the UK fell by 46,000 to 2.56 million in the three months to June, with the unemployment rate dropping to 8%.
"The latest UK retail sales figures are pretty good - as much for the upward revisions to past months as for July's figure," said Vicky Redwood at Capital Economics.
"The fall in sales in Q2 [second quarter] overall was revised from 0.7% to 0.3%, adding to other evidence suggesting that the initial estimate of GDP will be revised up in next week's second estimate.
"What's more, sales should maintain this recent positive momentum in the near term as the boost from the Olympics comes through."
Signs of improvement
The ONS figures showed that the increase in retail sales last month was driven by fuel sales, which rose 2.6%, as supermarkets tempted motorists with promotions.
Excluding fuel, sales were unchanged, with stores continuing to cut prices to attract shoppers. However, this outcome was still better than analysts had forecast.
Food sales rose 0.4%, while sales of clothing and footwear fell 1.8%.
The ONS also said that retailers had reported no impact from the opening two days of the Olympic Games.
"I think it supports what the Bank of England's been saying that as real incomes start to improve because of lower inflation and possibly eventually higher wages, you might start to see the retail sector show some signs of improvement," said George Buckley of Deutsche Bank.
Amit Kara of UBS said: "The data shows that's been a widespread pick-up in volume growth across most of the sectors... and of course this is all coming before the boost we're likely to get from the Olympics.
"As such, it's consistent with the view that Q3 will be a lot better for overall economic growth in the UK."
However, the British Retail Consortium (BRC) was less optimistic.
"July was no golden month for retailers, despite the build-up to the Olympics. The sale of non-food goods held up better than food, but both measures were weaker than in June," said Stephen Robertson, the BRC's director general.
"We'll need to see August's figures for the full picture. But with disposable incomes still under pressure and with inflation sneaking back up, underlying conditions remain challenging for the sector."
Away from the High Street, there was more good news from the UK motor industry.
Figures from the Society of Motor Manufacturers and Traders showed that UK car production reached 120,000 cars last month, up 22% from a year earlier.
Production is now up 15% from the start of the year, the SMMT said.