US industrial output in July sees strong rise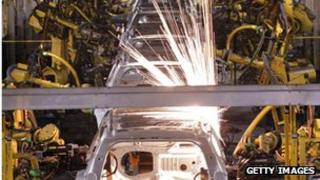 US industrial output last month grew at the fastest pace since April, figures show, raising hopes of a sustainable recovery in the economy.
Industrial production rose by 0.6% in July from the previous month, according to the Federal Reserve.
The surprise increase followed monthly rises of just 0.1% in June and May. In April, production grew by 0.8%.
Manufacturing output, a key component, rose by 0.5%, driven by increased output in utilities and mining.
Meanwhile, separate figures showed that consumer prices were unchanged in July, as a small dip in energy costs offset slightly higher food prices.
Excluding volatile food and energy prices, core consumer prices edged up by 0.1% last month, the Labour Department said.
The weak figure supports views for more stimulus measures - including pumping cash into the economy - by the Federal Reserve. But critics argue that would spur inflation.
On Tuesday, the US recorded an unexpected jump in July retail sales, which grew by the biggest amount in five months.
The data pointed to a modest recovery in the economy, as spending makes up nearly three-quarters of America's economic output.
The economy grew at an annualised rate of 1.5% in the second three months of the year.