Carlsberg profits rise despite poor weather
15 August 2012

From the section

Business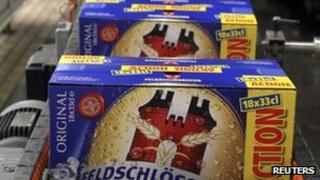 Danish brewer Carlsberg has reported a rise in second-quarter profits, but said poor weather hit sales in key European markets.
Net profit in the quarter jumped 63% to 3.36bn kroner ($556m; £355m) from 2.06bn kroner a year earlier.
However, the brewer, which owns the Carlsberg, Tuborg and Baltika brands, said sales in northern and western Europe fell 5% because of poor weather.
Sales in these areas account for more than half of the group's revenue.
Carlsberg said that its sponsorship of the Euro 2012 football tournament had helped it to increase its market share.
But analysts were concerned about a broader decline in European markets due to the debt crisis.
"Northern and western Europe is the biggest worry," said Alm. Brand analyst Stig Nymann.
"There is an effect from the weather but, otherwise, this could be a sign that the economic crisis is felt on sales of the more expensive brands."
Emerging markets
Net revenue rose by 5% to 19.6bn kroner in the April-June period. But operating profit fell 14% to 4bn kroner because of marketing costs.
Carlsberg reported rising sales in Russia and Asia, particularly in areas such as Vietnam, China and India.
The company said that it planned to launch a new version of Tuborg there to capitalise on rising demand.
Big brewers have focused on emerging markets to offset sluggish demand in Europe, due to weak economies and an unusually wet weather this summer.