Scotland helps power UK economy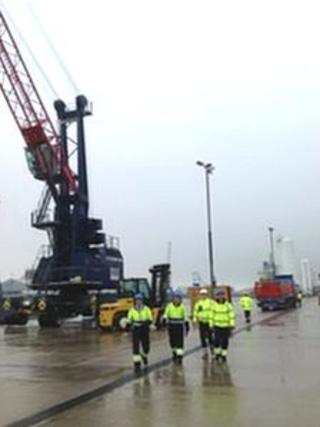 Aberdeen is known as The Granite City - after the grey stone found in almost all the buildings and walls within the Scottish port.
And, beneath a heavy sky and rolling thunder, dawn in the city's harbour can often be grey too.
But it is here that Aberdeen gets its second name: The Oil Capital of Europe.
Last month official figures confirmed that Scotland was officially back in recession - like the rest of the UK - with weak output from the construction industry causing its economy to contract.
But Aberdeen is an exception - this is the powerhouse of the Scottish economy - from the oil and gas fields drilled out in the North Sea, to the wind and wave power harnessed across the Highlands.
The energy industry supports more than 400,000 jobs - and 45% of them are in Scotland.
There are more than 400 companies working with the energy industry in Aberdeen, and last year more than half of them were taking on more staff to keep up with demand.
"This is Britain's best industrial success story of modern times," says Malcolm Webb, chief executive of Oil & Gas UK, the trade association for the offshore energy sector.
He said the industry had been going strong for 50 years now, and that the sector was looking ahead to the next half-century.
One of them, BP, is looking to continue to invest in its business in the region.
"BP will be investing about $2bn (£1.27bn) of capital in the North Sea next year, and probably $10bn over the next five years," says Jim Cowie, vice-president of drilling at BP.
Training issues
Of course, this is a sector providing something every person and business in the UK needs - and being so fundamental means that energy production is untouched by recession.
We're always going to pop the kettle on when we need to.
But that doesn't mean it's an industry without its own problems.
At Scottish Power's training centre near Glasgow men and women - whose job it is to make sure the lights stay on, even when the power lines come down - are busy at work.
Their engineers are climbing and fixing wooden poles across the network in all kinds of weather.
But this valuable job is at risk, with almost a third of the technical staff maintaining the network due to retire within 10 years.
Scottish Power is on a big drive to get young people into engineering, and three of their trainees, Frank Berry, 18, Jaimi Grant, 20, and Kat Brennan, 24, told us they felt good to be involved with such an important job.
"I always wanted to do something important," Kat said. "We were told about the energy gap at school, and I feel what I do can make a difference."
About two-thirds of the oil and gas we use comes from the deep sea projects beyond Aberdeen harbour, but the UK aims to get 15% of it's power from the renewables industry by 2020.
It is in this business that companies like BP, cities like Aberdeen, and graduates like Kat are looking to for the future.
As long as the UK, and indeed Scotland, has the expertise to harness it, power will remain of the big drivers of economic growth.