UK construction output fall better than expected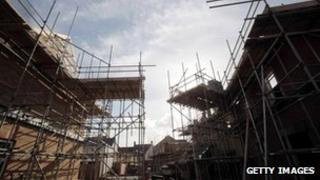 Construction output in the UK has fallen in the second quarter, official figures have shown, although the drop was less than expected.
Output from the sector fell by 3.9% between April and June from the previous quarter, compared with an earlier forecast of a 5.2% drop, the Office for National Statistics said.
Compared with a year earlier, output fell by 9.5%.
A significant fall in new infrastructure projects dragged activity lower.
Mark Farrar, chief executive of the Sector Skills Council said the new figures "show a continuing trend for the construction industry - times are tough and there is no sign of a change in fortunes".
He said the data was particularly disappointing because of a slump in repair and maintenance work.
"With 26 million energy-inefficient homes in the UK, the retro-fitting of green technology to improve environmental performance is a huge opportunity to provide an immediate financial injection to the industry - but this opportunity remains untapped," he said, as he called on the government for more investment in the sector.
However, others saw glimmers of hope.
"The good news is that construction output fell less in the second quarter than had been estimated, which boosts the prospects of a significant upward revision to the second-quarter GDP data," said Howard Archer, chief UK and European economist at IHS Global Insight.
The Bank of England on Wednesday said it expects zero growth in the economy this year.