Profile: Barclays' new chairman Sir David Walker
10 August 2012

From the section

Business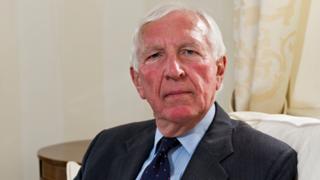 Sir David Walker, appointed as Barclays' new chairman, can be expected to have a clear view of how to negotiate the increasingly political world of banking.
He fully fits the model of a City grandee.
In his 50-year career, the 72-year-old has worked inside of government and inter-governmental institutions, as well as at the highest level within some of the world's biggest names in banking.
He has worked at the UK Treasury, the International Monetary Fund, the Bank of England and a host of commercial banks including the UK's Lloyds and the US giant Morgan Stanley, where he is currently a senior adviser, having previously been chairman of its international operations.
He has also overseen a number of high-level inquiries into the way banks are run, completing two independent reports as well as making recommendations regarding the private equity industry and corporate governance at financial institutions.
Double first
His most recent, the Walker review in 2009 into how UK banks were governed, called for financial institutions to publish the number of staff paid more than £1m, a list on which he himself would not now appear as his pay will be well under that at £750,000 a year.
For that, he is expected to work for "no less than fours days a week" - shorter hours would look like hypocrisy as another of his report's 39 recommendations was that chairmen should spend more time at banks.
He was educated was at Chesterfield School and Queens' College Cambridge, from where he took a double first in economics.
His career began in 1961 when he joined the Treasury, later becoming its joint permanent secretary.
He was then seconded to the staff of the International Monetary Fund in Washington, returning to the UK Treasury as assistant secretary.
Later, he entered the Bank of England as its chief adviser.
Crisis management
It is not the first time he has played a role in a bank at the heart of a crisis: he was brought into the failing Johnson Matthey - also as chairman - amid the banking crisis of the mid-1980s.
And he also knows about the running of UK banks at the heart of national life from his time as deputy chairman of Lloyds Bank in the early 1990s.
He also co-led the independent review of the Financial Services Authority's report into the failure of the Royal Bank of Scotland.
His knowledge of the City was also bolstered by his time at the London Stock Exchange, where he was the chairman of its financial markets steering group.
His non-executive roles include National Power in the early 1990s, Reuters and as vice-chairman in another area of the financial world at the giant insurers Legal and General.
Sir David said in a statement announcing his appointment as Barclays chairman: "Barclays has a crucial role to play in ensuring that this country has a successful, well-governed banking industry."
He said his immediate priority would be to appoint a successor to former chief executive Bob Diamond.
Fine dining
Sir John Sunderland, who led the process to appoint a successor to Marcus Agius, said today: "I am delighted that Sir David Walker has accepted the board's invitation to become chairman. Sir David commands great respect within the financial services industry and will bring immense experience, integrity and knowledge to the role."
He will become a non-executive director of Barclays in September and take up his role as chairman from the start of November.
An establishment figure, he is a member of the exclusive Garrick and Reform clubs, as well as Mayfair-based Mark's private dining club.
His outside interests are listed in Who's Who as music and long-distance walking.
He married Isobel Cooper in 1963, and has one son and two daughters.