Tui Travel's profits fall 73% in third quarter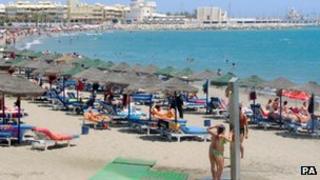 Tui Travel, which owns Thomson and First Choice, has blamed an early Easter holiday and sluggish business in France for a 73% fall in third quarter profit.
The world's biggest tour operator said its pre-tax profit fell to £3m in the three months to 30 June, down from £11m last year.
Its revenue declined 2% to £3.7bn.
While sales in France fell, Tui saw growth in the UK, Germany and Nordic region.
Tui said the third quarter results were affected by this year's early Easter, which fell in the second quarter.
"That Easter period was reported in the second quarter and was worth £13m," it said in a statement to the BBC.
"Had the Easter date fallen in the third quarter we would have reported that £13m in the third-quarter result issued today. This is an issue of timing."
'Encouraging start'
Leisure companies and airlines in Europe have posted losses, or seen profits fall sharply this year, as people travel less amid gloomy economic conditions, and uncertainty surrounding Greece, one of the region's main holiday destinations.
However, Tui said its sales were now improving.
"Summer 2012 volumes have improved in most key markets since our last update. We are seeing strong demand and late margins for the peak summer period," Tui Travel chief executive Peter Long said in a statement.
"Our winter 2012-2013 programme has had an encouraging start," he added.
According to a recent French survey, four out of 10 people in France will not go on vacation this year, one of the lowest readings ever recorded.
The French central bank expects the French economy to fall back into recession in the third quarter of this year.