India's manufacturing decline sparks slowdown fears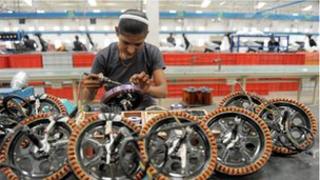 India's industrial output fell for the third time in four months in June, adding to worries about the health of Asia's third-biggest economy.
Manufacturing declined 1.8% from a year earlier, compared to a revised 2.5% in May, official data showed.
Economists were expecting a 0.4% increase, with some forecasting India's worst slowdown in a decade.
The figures put pressure on newly-appointed Finance Minister Palaniappan Chidambaram to boost growth.
India's economy grew by 5.3% in the first three months of this year.
Simon Rudolph, of Franklin Templeton Investments, says one of India's biggest challenges is policy paralysis.
"India has been experiencing a series of downgrades to its economic estimates,'' he said.
''The government needs to focus more on keeping inflation low, getting interest rates down and promoting a culture where businesses can invest.''
Growth challenges
Indian policymakers have been grappling with the highest headline inflation rate among the world's largest emerging markets and a weak currency. Plus, attempts liberalise the country's retail sector have failed.
The government has also come under pressure from several corruption scandals and a power outage last month that underscored the nation's weak infrastructure.
India's central bank left its benchmark borrowing costs unchanged at 8% last month, but analysts say it may need to undertake more monetary easing to boost growth.
The weakness of India's currency, the rupee, is another cause for concern. It has fallen about 18% against the US dollar in the past year.