Germany's exports decline in June on eurozone woes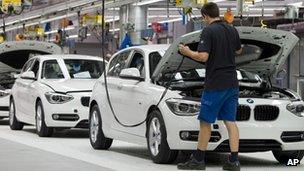 Germany's exports fell in June, especially those going to fellow eurozone countries, as sovereign debt woes in Greece and other nations continued to have a negative impact.
Exports in June totalled 92.3bn euros ($114bn; £73bn), 1.5% lower than May, said the Federal Statistics Office.
At the same time, Germany's imports dropped 3% to 76.1bn euros, resulting in a trade surplus of 16.2bn euros.
Exports to fellow eurozone nations were down 3% from June of last year.
Those to other European Union nations in general - which includes those that do not use the euro, such as the UK - fell 0.5%.
By contrast, exports to countries outside of the EU soared 20% compared with a year earlier.
'Falling trend'
Stefan Kipar, economist at German bank Bayern LB, said the decline in exports was "not too serious".
"If things cool down outside of Europe, then exporters will feel it, but we haven't seen that yet in orders data," he said.
June's 1.5% decline in exports followed after they rose by 4.2% in May.
Fellow economist, Juergen Michels of Citigroup, said: "This is a correction of May's strong increase. We will see a falling trend in demand in the coming months, particularly from the eurozone countries.
We still expect exports to grow this year, however. The guarantee for this is the robust demand from outside Europe, in particular from emerging countries."
Separate data on Wednesday showed that German industrial output fell in June.
The figures from the Economy Ministry showed that output declined 0.9% compared with May.
The manufacturing and construction sectors both contracted, while energy output rose.