Uganda feels China's African involvement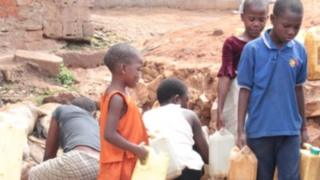 This month marks the 40th anniversary of the expulsion of tens of thousands of Asian families from Uganda by the then ruler Idi Amin.
At the time, Asians controlled some 90% of Ugandan business. The brutal dictator accused them of being "bloodsuckers" and claimed they were milking the economy of its wealth.
These days, the Asians' contribution to the economy is widely recognised. Many of those who were expelled have since returned and once again they control a sizeable chuck of the Ugandan economy.
But these days, they are competing in a very different arena.
China is the main player now, at almost every level of the economy.
Local traders
In Kampala's sprawling street markets, you hear Chinese voices among the English and Luganda.
Chinese traders have set up stalls next to the locals, selling goods imported from their home country - everything from cheap plastic shoes to more complex electronics.
In Kampala's slums, where the majority of the capital's residents live, there is plenty of business going on too.
Blacksmiths are busy hammering out cooking implements, and tailors work at sewing machines in tiny dark shops.
"This is a place where we can put our business and start working," says tailor Rachel Nathumanya, who arrived from the countryside last year.
"Business is moving, but in slow motion. Customers don't have enough money to buy quality."
China's reach
Small traders such as Ms Nathumanya are keenly aware of the presence of the Chinese.
Many complain the market is being flooded with what they say are cheap, poor quality products.
During the last financial year, China overtook the UK as Uganda's largest trading partner, accounting for some 30% of all foreign trade.
China's reach extends all the way from the bottom end of the market to the top - in Uganda as well as in many other parts of Africa.
Chinese state-owned companies have won major government infrastructure contracts to build roads, power stations and upgrade communications systems.
Huawei Communications, a Chinese communications giant, has been granted a series of multi-million dollar telecommunications contracts, including the expansion of Uganda's fibre-optic infrastructure.
The company controls the majority of mobile telephone networks and has recently moved into smart new offices in the centre of Kampala.
'Fair, free and in procedure'
Huawei provides jobs for Ugandans. More than half their employees are local and the company is keen to show off its corporate responsibility, sponsoring projects in local universities.
But critics say the procurement process was not adequately transparent, a claim rejected by officials.
"As far as I know, contracts were awarded on merit," says James Mulebeke, a Ugandan, who is Huawei's deputy regional director.
"But this is a question I would like to leave to the government to answer because this is a contract that was awarded between two governments.
"What I clearly believe and know is that the processes leading to that were fair, free and in procedure with both governments' regulations."
Powerful player
Local journalist, Charles Mwanguhya, from the Daily Monitor newspaper, has investigated how big trade deals are made in Uganda.
In many ways, he says, Chinese companies operate in a similar way to Western businesses.
But there are differences too.
"The difference is that they're doing a hybrid type of capitalism," he says, "where the state maintains control and can influence negotiations with the government, which is different to Western companies operating independently.
"And the Chinese government has resources, which governments like Uganda's need."
So where does this leave the West?
Earlier this year the Ugandan government signed production agreements with British-owned oil company Tullow for Uganda's untapped oil fields.
Tullow in turn sold two-thirds of its interest in the oil fields to French-owned Total and the Chinese state oil company CNOOC.
Western markets
Agricultural exports still account for the biggest slice of Uganda's foreign income, but demand from the crisis-hit eurozone has been falling.
Flower exports tumbled by 30% last year, forcing some farms out of business.
And although demand for coffee remains steady, fluctuations in the commodities markets have made it harder for Ugandan distributors to compete with businesses in other countries where yields are higher, according to the Swiss-owned coffee distribution business, Kyagalanyi Coffee, which employs more than 100 Ugandans.
"It's been more difficult, let's put it that way, to maintain some sort of sense of orderly margin in our business and to come out the right side in terms of our profit and loss account," says managing director David Barry, a British citizen.
But Mr Barry remains positive about the Ugandan economy, which is growing at about 4.5% despite the global financial crisis.
"The infrastructure is improving all the time, so our ability to export coffee, to process coffee, to handle the coffee intelligently, that's reasonably good," says Mr Barry.
'Poverty breeds poverty'
But back in Kawempe, Kampala's largest slum, Hadija Nachitende, who runs a small shop out of her front room, is not feeling the benefits of growth - Chinese or Western.
Her biggest problem, she says, is inflation.
At one point last year it reached 30%. It has now dropped to about 15%, but still the cost of living is rising.
She hears the talk about the growth of an African middle class, but says it remains out of her reach.
"The middle class here breeds middle class," she says.
"So someone who is already middle class will often have all the resources to breed another middle class person, but poverty breeds poverty."