Xstrata profits drop on weaker commodity prices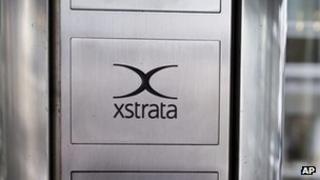 Xstrata, which is in the midst of a takeover bid by Glencore, has said its profits dropped in the first half of this year, reflecting falling commodity prices and higher costs.
The Anglo-Swiss miner said net profit in the six months to June fell 33% to $1.9bn (£1.22bn) from a year earlier as nickel and zinc prices slumped.
Revenue fell to $15.5bn from $16.7bn from a year earlier.
It also said it would reduce capital spending by $1bn (£640m) this year.
Xstrata's shares were up 2.14% in morning trading following the announcement.
"Our financial performance in the first half of the year reflected a cyclical downturn in commodity prices and the transition to our next generation of lower cost mines," said Xstrata chief executive Mick Davis.
Despite the headwinds, Xstrata said it cut real unit costs by a net $105m in the first half of the year because operations in its nickel and zinc business units were made more efficient. It will defer $1bn of expenditure originally planned for 2012, it added.
The company, which owns vast reserves of coal, copper and nickel across Africa, South America and central Asia, remained upbeat about its business, saying that rising demand for commodities from emerging economies would support prices.
Glencore effect
Xstrata earlier this year agreed to a takeover bid by Glencore, its largest shareholder. But the deal stalled in June after Qatar Holdings, Xstrata's second largest shareholder, demanded better terms.
Mr Davis declined to comment on the impact Glencore's takeover bid would have on Xstrata, whose shareholders will vote on the deal on 7 September.
"We are well positioned for a company which joins with Glencore to create a really great mining company. And if that doesn't happen, we are well positioned as Xstrata standalone to continue to grow value for our shareholders," he said.
The merger plan, first announced in February, would create a company worth $90bn (£58bn) that can benefit from both extracting and selling commodities.
Glencore buys and sells metals, crops and fuels in the financial markets and invests in mining companies. It will release its interim results on 21 August.