Heineken seal Tiger Beer purchase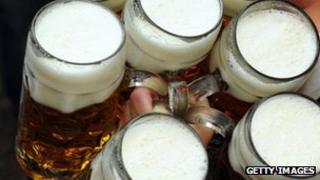 The Dutch brewer Heineken is to take control of the brewery that makes Tiger Beer in a deal worth 5.1bn Singapore dollars ($4.1bn; £3.27bn).
Fraser & Neave accepted Heineken's bid to take control of Asia Pacific Investment Pte (APIPL), which is a joint venture between the two firms.
APIPL operates Asia Pacific Breweries (APB), which brews Tiger Beer.
The deal is subject to regulatory approval and that of Fraser and Neave's shareholders.
Heineken and its associated companies already own 50% of the issued shares in APIPL and 9.49% of APB.
Lucrative opportunity
If the deal completes, APIPL will become a wholly-owned subsidiary of Heineken, through which it will own 64.80% of APB's shares.
Asia Pacific Breweries is one of the region's biggest breweries.
It operates 30 breweries, mostly in the Asia-Pacific region, with some in Canada, giving Heineken a bigger slice of a lucrative, growing market.
As well as Tiger beer, APB also brews Asian beer brands Anchor beer, Baron's Strong Brew, ABC Extra Stout, Archipelago beer and Bintang beer.