Rajoy considers bailout options as Spain's borrowing costs fall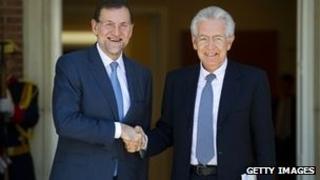 Spain's implied cost of borrowing fell below 7% on Friday as Prime Minister Mariano Rajoy said he was considering bailout options.
At a press conference in Madrid, Mr Rajoy said he would do "what was best for the Spanish people".
The yield on Spain's 10-year bonds dropped to 6.8% late on Friday after topping 7.4% earlier in the day.
Greece, Portugal and Ireland all had to seek international bailouts when their borrowing costs stayed above 7%.
In June, Spain requested 100bn euros ($122bn) of loans from the EFSF bailout fund to help support its banks, which are struggling with bad debts from loans made in the property sector.
However, speculation had increased in recent weeks that the government would have to request a full financial rescue.
Draghi's challenge
On Thursday, the president of the European Central Bank (ECB) Mario Draghi said the ECB was ready to intervene in the bond markets to bring down the cost of borrowing for countries such as Spain.
But he told reporters that Spain's formal request for help from the European bailout funds - the EFSF and ESM- was "a necessary condition" of any ECB support.
Eurozone members Germany and Finland oppose ECB support for Spain without promises from its government to stick to strict spending and budget plans.
By making a formal request to the EFSF, Spain would have to sign a memorandum of understanding or legal promise to stick to agreed plans.
"What I want to know is what these measures are, what they mean and whether they are appropriate and, in light of the circumstances, we will make a decision, but I have still not taken any decision," he said.
The government was also due to submit budget plans for 2013 and 2014 to the European Commission on Friday.
Last month, Madrid announced additional spending cuts and tax rises worth 65bn euros ($79bn; £51bn).