RBS boss admits banks became 'detached from society'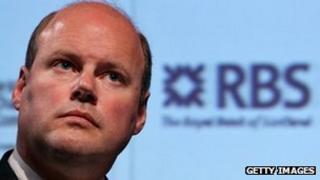 Banks became "detached from society" and still need to reconnect with their customers, the chief executive of Royal Bank of Scotland (RBS) has admitted.
In an interview with the BBC's Today programme, Stephen Hester said the industry was "coming down to earth with a bump" following recent scandals.
He added that the UK could not afford "blasting it to smithereens" because of the vital role banks played.
However, he also said further problems at the banks may be discovered.
Mr Hester was speaking after RBS reported a half-year loss of £1.5bn.
The bank also confirmed on Friday that it would put aside £125m to pay compensation to customers affected by the recent breakdown in its computer systems.
Account holders at RBS and its NatWest and Ulster Bank subsidiaries faced disruption for up to two weeks in June after a software upgrade at the bank.
'Vital industry'
RBS has been caught up in three recent scandals affecting the banking sector.
Firstly, it is being investigated over the Libor interest rate-fixing scandal that saw fellow bank Barclays fined £290m in June.
Mr Hester told the BBC that as RBS was "still being investigated" it did not yet know what fines or settlements it may face.
RBS has already sacked a number of staff connected to the matter.
Separately, RBS is having to pay compensation for two mis-selling scandals: mis-selling payment protection insurance, and mis-selling specialist insurance called interest rate swaps to small businesses.
Mr Hester said: "We can't afford the luxury of giving up on the banking industry, of blasting it to smithereens, as much as that might be enjoyable, or get out our frustrations.
"This is an industry that the world needs, that the country needs, it needs it to oil, if you like, the economic wheels, and we need it because it employs in its own right millions of people, and pays huge amounts of taxes and so on."
Regarding the possibility of banks discovering additional problems, he said: "of course there is still a risk that you turn over rocks and find new things [that you have to clean up]".
Mr Hester added that while the banks had now largely fixed all their structural faults, they still had to return to putting customers first.
"It is very clear to me," he said. "A successful business must be built off the back of serving customers well, and until we as an industry can say we are doing that, we won't have finished the changes we need to make."
Mr Hester was appointed RBS chief executive in 2008, with the job of turning it around after the government bailed it out with billions of pounds of taxpayers' money.
The government currently owns an 82% stake in the bank.