GM profits fall on weakening euro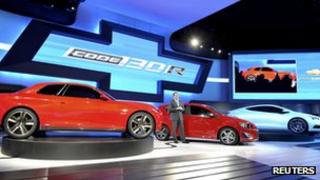 US car giant General Motors (GM) has reported a fall in quarterly profits due to weak sales in Europe, where the debt crisis has weighed on the euro.
GM said that net income for the three months to June was $1.5bn (£968m), down from $2.5bn last year.
Net revenue fell to $37.6bn, from $39.4bn in the same period last year.
"The decrease was due almost entirely to the strengthening of the US dollar versus other major currencies," it said.
North America was its strongest market.
In Europe, GM - which owns Vauxhall and Opel - made a loss before interest and tax of $400m, compared to a profit of $100m in the same quarter last year.
GM in North America had a profit before interest and tax of $2bn, down from $2.2bn.
"Our results in North America, our international operations and at GM Financial were solid but we clearly have more work to do to offset the headwinds we face, especially in regions like Europe and South America," said GM chairman and chief executive Dan Akerson.
The euro has been slumping this summer, with Spain and Italy are all in recession amid fears they will need a bailout as well.
The UK, not in the euro but home of Vauxhall, is also in recession.
Earlier this summer, GM announced plans to reduce its pension obligations by $26bn by offering tens of thousands of retiring workers lump-sum payments.
In 2009, the carmaker filed for Chapter 11 bankruptcy protection and received a $50bn bailout from President Barack Obama's administration.