Struggling Thomas Cook reports quarterly loss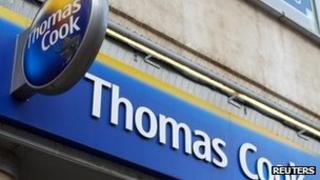 Struggling travel group Thomas Cook has said its turnaround plan remains on track despite reporting a quarterly loss.
In a trading update, it said its underlying operating loss for the three months to 30 June was £26.5m, compared with a profit of £20.1m a year earlier.
Thomas Cook said it had been hit by "challenging" trading, but that sales in recent weeks had improved.
Its revenues for the three months were down 6% from a year ago.
'Difficult period'
Harriet Green, who became Thomas Cook's new chief executive last month, said: "My initial focus is to review our businesses, quickly establish priorities, and develop a clear plan to reinvigorate Thomas Cook.
"The group has been through a difficult period, but much has been achieved which has strengthened the balance sheet and improved liquidity."
She added: "The strength of the group's brands and the quality of its businesses and people provides a foundation from which to bring the business back to full strength."
During the quarter, Thomas Cook sold its HCV Hotels subsidiary in Spain for £58m, and agreed an aircraft sale and leaseback deal which raised £189m.
The company has struggled with high debt levels and the wider downturn in the global travel sector.
In May, Thomas Cook secured a £1.4bn refinancing package. This deal gives the company a further three years to repay its debts.
Arab impact
Thomas Cook got into difficulty last year when the unrest in the Middle East and North Africa affected its operations in Egypt and Tunisia.
Its position was worsened by the fall in overall bookings by cash-strapped UK consumers, and the company's high debt levels.
Thomas Cook said in its trading statement that its debt now stood at £1bn, up from £902m a year ago.
Harriet Green said she intended to present "a clear plan to reinvigorate" the company by spring of next year.