Toyota to recall 878,000 cars due to suspension fault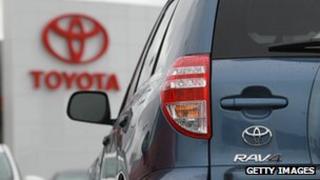 Toyota has said it will recall 859,000 units of its RAV4 sports utility vehicle and 19,000 units of the Lexus HS 250h car in the US and Canada to fix a problem with the rear suspension arm.
It said the arm could rust and separate if the suspension nuts were not tightened properly during service.
The carmaker has been trying to rebuild its image after a spate of recalls due to safety concerns in the past few years.
Toyota is Japan's largest carmaker.
Dion Corbett, a spokesperson for Toyota, told the BBC that the firm was developing a plan to ensure that the issues did not re-occur.
Customer loyalty
Meanwhile, Toyota's sales in the US continue to recover after being hurt by the disruption caused by the earthquake and tsunami last year.
According to the latest data, Toyota's sales in the US rose by 26% in July from a year earlier.
Honda Motors sales jumped by 45%, while Nissan's sales rose by 16% during the month.
The natural disasters saw Japanese carmakers, including Toyota, suspend their production, which resulted in long delays to deliveries and a drop in sales.
However, analysts said that the firms had been able to bounce back quickly.
"Toyota and Honda have regained all of the share they lost, and much faster than we thought they would," said Jesse Toprak, vice president of market intelligence for TrueCar.com.
"Their customers appear to be a lot more loyal than we gave them credit for."