BNP Paribas profits helped by job and spending cuts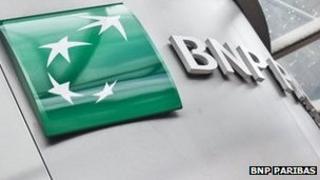 France's biggest bank, BNP Paribas, has reported better-than-expected profits in the three months ending in June following a round of job and spending cuts.
The lender made 1.8bn euros ($2.2bn; £1.4bn) in the second quarter compared with 2.1bn euros a year earlier.
Although this was a 13% fall, it was better than analysts' forecasts.
Its ratio of high quality - tier 1 - capital needed to cushion it against any future shocks rose to 8.9%.
New international rules - Basel III - require a ratio of 9% from 1 January 2013.
BNP, like many banks, has reduced its lending in order to meet more stringent banking rules.
The group is also in the process of cutting 1,400 jobs which has reduced its running costs.
As a result, BNP has fared better than some of its peers in the current European economic downturn.
"We are very confident for the second part of the year," said chief executive Jean-Laurent Bonnafe.
Libor scandal
Earlier this week, Europe's biggest lender Deutsche Bank admitted that some of its staff had been involved in attempts to manipulate the interest rate at which banks lend to each other.
The London Interbank Offered Rate (Libor) is used to price trillions of dollars of financial assets around the world.
The UK's Barclays was fined by financial regulators for its involvement at the end of June.
When asked whether BNP had been embroiled in the Libor rate-fixing scandal, Mr Bonnafe said the bank was "absolutely not" involved.
"Regulators will have to change the way [Libor] is calculated. It's a very bad point for the City of London," Mr Bonnafe added.