Gummi bear-maker Haribo fined by German antitrust body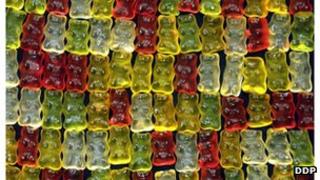 Gummi bear-maker Haribo has been fined 2.4m euros ($2.9m; £1.9m) by Germany's antitrust body for improperly swapping sales information with three of its rivals.
The Federal Cartel Office (FCO) said sales staff met informally in 2006-2007 to exchange details on negotiations and discounts with retailers.
Haribo said it had cooperated and accepted the fine.
The probe started after US confectioner Mars alerted authorities.
"Certain types of information exchange between competitors are inadmissible under competition law," said Andreas Mundt, president of the FCO.
"Competition is impaired by such practices, even if they are not classical hardcore agreements about prices, supply areas, customers or quotas," he added.
He said investigations were still ongoing against two of the other confectionery manufacturers, which were unnamed.
The FCO gave no details about the fourth company.