Eurozone manufacturing activity 'hits three-year low'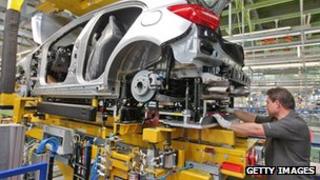 The eurozone manufacturing sector contracted at its fastest pace in three years in July, according to a closely watched survey.
The manufacturing Purchasing Managers' Index (PMI), compiled by Markit, fell to 44 from 45.1 in June. Any reading below 50 indicates contraction.
Companies were focusing on cost cutting as falling orders led to more job losses, Markit said.
Germany, Europe's industrial power base, posted one of the lowest scores.
Its PMI for July was 43, also a three-year low. Only Spain and Greece saw their manufacturing sector contract faster.
The Republic of Ireland, with a score of 53.9, was the only country where manufacturing expanded.
'Major drag'
The rate of job losses hit a two-and-a-half year high, with job cuts most severe in Germany, France, Italy and Spain.
The only bright spot in the survey was a bigger fall in input prices, with manufacturers' purchasing costs falling at their fastest rate in almost three years.
"Manufacturing looks to be on course to act as a major drag on economic growth in the third quarter, as the eurozone faces a deepening slide back into recession," said Chris Williamson, Markit's chief economist.
"The July survey is characterised by faster rates of decline in output and new orders, leading manufacturers to cut back on headcounts and inventory holdings and suggesting a fear among companies towards ongoing weakness in the coming months."
Cutting debts
Growth in the eurozone economy was flat in the first three months of this year, after contracting by 0.3% in the previous quarter. An initial estimate for the April-to-June period will be released on 14 August.
Growth has stagnated as governments across Europe introduce stringent austerity measures, including tax rises, spending cuts and pension reform, to try to reduce debt levels following the financial crisis of 2008 and the subsequent recession.
Governments are looking to cut debt to meet EU targets and to convince international investors of their creditworthiness. Spain, in particular, has struggled to convince markets, which are demanding high rates of interest to lend to Madrid.
In the past week, policymakers and some eurozone leaders have hinted that the European Central Bank will step into the debt markets again, in an effort to bring down the cost of borrowing for highly indebted countries.