Next increases annual profit target as sales rise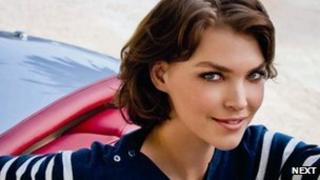 Retailer Next has "modestly" increased its full-year profit target after it reported a rise in half-year sales.
The clothing and homeware business now expects to make an annual pre-tax profit of £575m-£620m, up from its previous guidance of £560m-£610m.
It said total sales for the six months to 28 July, the first half of its financial year, were up 4.5%.
Sales via its mail order and online operation rose 13.3%, while sales at its High Street stores were up 0.2%.
Next said overall like-for-like sales - which pulls out the impact of new store openings - had fallen, but it did not release an exact figure.
Its complete half-year results will be released on 13 September.
James McGregor, director of retail consultancy Retail Remedy, said: "In an extremely challenging retail environment, Next has done the right thing by focusing myopically on its core strengths and core customers, many of whom have grown up with the brand since its launch in the early eighties.
"Rather than chase the value end of retail, as so many retailers have done in recent years, Next has remained stubbornly in the middle ground and it has paid dividends."