Nomura battles image crisis as new chief takes charge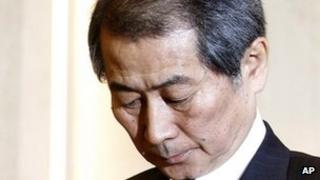 "Nomura wouldn't survive a third scandal," the then new president and chief executive of Nomura Securities famously said in 1997.
Junichi Ujiie was referring to two incidents in 1991 and 1997 that tainted the firm's reputation.
They revealed Nomura's improper payments to influential clients for their stock market losses and its link to organised crime.
Some 15 years later, we have the third scandal. This time, some Nomura staff allegedly leaked information on share sales in 2010.
The three scandals share similarities: Nomura's initial response to deny any wrongdoings, followed by its leaders' resignations.
In 1991, one of the most powerful figures in Japan's financial markets - Yoshihisa Tabuchi - resigned.
In 1997, Mr Tabuchi's successor, Hideo Sakamaki, did not only step down, but he was also arrested along with two other executives for approving pay-offs to corporate extortionists and received a suspended prison sentence.
Last Thursday, after trying to hold on to his job, Kenichi Watanabe announced that he was stepping down. The new chief executive, Koji Nagai, starts his job on Wednesday.
Target-driven culture
So, what has happened to Nomura, which was believed to have cleaned up its act since the previous scandals?
A committee of external lawyers commissioned by the firm has concluded that in certain parts of its sales department "the work environment appeared to be one in which employees would be willing to do anything to meet sales targets".
In fact, this is not the first time Nomura has been hit by these allegations.
A Nomura Securities section chief was indicted without arrest in 2003 over insider trading and another employee was arrested in 2008.
But these cases were viewed as isolated incidents, and they were also overshadowed by glamorous headlines about Nomura's huge profit on its 80th birthday in 2006 and its takeover of Lehman Brothers' European and Asian assets in 2008.
According to Masataka Maeda of the Japan Center for Economic Research, "Nomura's disgrace started with the recent scandals of AIJ and Olympus."
The president of AIJ Investment Advisors, Kazuhiko Asakawa, who was arrested last month for fraud, once worked for Nomura. Camera-maker Olympus is reported to have received advice from former Nomura employees on how to hide its losses.
"People now think that it wasn't just its former employees, but some of Nomura's current staff are also crooks," Mr Maeda adds.
Insider trade paradise?
As the Financial Services Agency investigates the industry, however, it has become clear that this is not just limited to Nomura.
Just a day after Nomura's top executives resigned, Daiwa Securities also said its in-house investigation discovered some employees may have leaked insider information. It slashed its executives' salaries.
"In Japan, people think that if industry leader Nomura was doing it, every other securities firm must have been doing it, too," Mr Maeda says.
"The damage these scandals have done to the industry is enormous."
They have also resulted in some extreme claims that Japan is a paradise for insider traders.
"It was a paradise before 1989, when there were no effective laws and regulations to penalise trades based on the unpublished information," Mr Maeda says.
But since then stricter rules have been implemented and Nomura awaits the country's financial regulators to announce punishment for failing to provide sufficient internal controls.
But that is not enough, according to corporate lawyer Shin Ushijima.
"The Financial Services Agency should be praised for cracking down on it proactively," he said.
"But there needs to be sufficient criminal penalties because without them, it is inevitable that companies would look for a loophole to make money."
There are calls to change the rules to criminalise brokerages and bankers who leak insider information and the ruling Democratic Party of Japan is reportedly looking into it.
Will Nomura survive the third scandal?
"Nomura is the industry leader so I assume regulators cannot let it fail," says Mr Maeda.
But the new management has a huge challenge to regain the public trust for the third time.