Chrysler swings to profit on US sales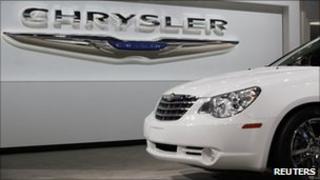 Chrysler has swung to a profit as the carmaker was boosted by sales in its home US market.
Net profit was $436m (£278m) in the second quarter , compared with a loss of $370m in the same quarter a year ago.
The company said its US market share jumped on a 32% increase in retail sales there.
Chrysler has little presence in Europe. The company gets 75% of its sales from the US, where the car market has been growing for the past three years.
Revenue for the quarter was $16.8bn, up 23% from a year earlier.
Worldwide vehicle sales were 582,000 for the second quarter, up 20% from the second quarter of 2011.
The company's loss from a year ago was due to a $551m charge over repaying government bailout loans.
After Chrysler emerged from bankruptcy protection in 2009, Italy's Fiat agreed with the US government to share technology and management in return for taking a stake in the US company, which has since turned into a majority holding.
Fiat boss Sergio Marchionne is also the head of Chrysler.