Mortgage lending dwindled in June, Bank says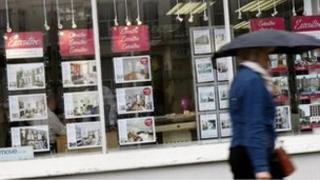 Mortgage lending is dwindling, figures from the Bank of England suggest.
Repayments of home loans outstripped new lending in June for the first time since June last year.
As a result total lending to individuals, including unsecured lending such as on credit cards, rose by just £0.3bn, its smallest rise in nearly two years.
Meanwhile the number of new mortgages approved for home buyers fell to the lowest level in 18 months at 44,192.
That left mortgage approvals - loans approved but not yet lent - down by 10% on June last year.
The level of approvals is roughly half its long-term level, which Howard Archer at IHS Global Insight described as "exceptionally weak."
"It indicates that underlying housing market activity is limited following a modest boost to housing activity at the start of 2012 from first-time buyers looking to complete before the stamp duty concession ended on 24 March," he said.
Last week, the British Bankers' Association (BBA) published similar figures on behalf of its members, arguing that the fall in mortgage approvals was due to the exceptionally wet weather in June, and adding that the Diamond Jubilee and the Euro 2012 football tournament has also affected the market.
Despite this drop in lending activity, house sales across the UK rose in June, according to recent figures from HM Revenue & Customs (HMRC), with sales across the first six months of 2012 11% higher than a year earlier.
The apparent contradiction can be explained by the fact that more than 40% of home sales take place without the buyers needing to take out a mortgage, so completed sales can rise even if borrowing falls.
Mortgage price war?
The Bank of England's latest figures confirm the warning contained in a survey of lending intentions that it published earlier this year.
This pointed out that banks were planning to restrict their mortgage lending even further in the subsequent months, particularly to borrowers with only small deposits to put down.
Mark Harris, chief executive of mortgage broker SPF Private Clients, warned that lending might continue to dwindle this year, due to the continuing recession and the unresolved euro crisis.
But he pointed out that lenders have recently started a mortgage "price war".
"Money market rates have fallen to their lowest levels ever in recent weeks and this has started to filter through into pricing, with cheaper fixed rates being launched, including five-year fixed rates pegged at below 3%," he said.
"However, the cheapest rates remain available for those with sizeable deposits so we wait to see whether the government's Funding for Lending scheme has an impact on higher loan-to-value deals with more choice available at competitive rates."